1. Submit to the Conference

All papers, both invited and contributed, will be reviewed by two or three experts from the committees. After a careful reviewing process, all accepted papers ofICSSED 2022 published on 《Advances in Social Science Education and Humanities Research》(Online ISSN: 2352-5398). The published papers will then be submitted for CPCI-SSH and CNKI abstracting/indexing.
ICSSED 2016 has been Indexed!(Click)
ICSSED 2017 has been Indexed!(Click)
ICSSED 2018 has been Indexed!(Click)
ICSSED 2019 has been Indexed!(Click)
2. ICSSED 2022 Cooperative English General Journal
(Please fill in the recommendation code [L977] when submitting the manuscript, and enjoy priority review and acceptance)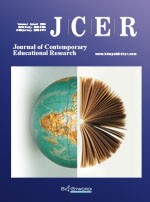 Journal of Contemporary Educational Research (JCER) Online ISSN: 2209-265X
It is a peer-reviewed, open-access international journal. It is committed to promoting the development of research in education evaluation, integration, theory and methods; promoting the formation of more novel and broad audience views about contemporary education; improving the level of humanities research through domestic and foreign cooperation; and realizing scientific knowledge research Combination of results and unconventional methods.
Journal of Contemporary Educational Research (JCER) has received support and responses from education experts and scholars from all over the world, successively from China, the United States, Australia, Russia, India, Malaysia, Italy, Brazil and other countries More than 100 scholars from, joined its editorial board, and some of them have H-indexes between 10-30, and they have a good reputation in the industry.
Articles included in this journal will be submitted to CNKI and Google Scholar for retrieval.
Submission method: click
For more details, please contact Ms. Li WeChat: 13922157154
3.Submit to the SCI journal | SCI期刊
Excellent papers will be recommended directly to the following or other suitable SCI journals.
期刊1:Sustainable Cities and Society(ISSN: 2210-6707,IF=4.624, 专刊)
期刊2:Electronic Commerce Research(ISSN: 1572-9362, IF=1.94, 正刊)
期刊3:Journal of Organizational Computing and Electronic Commerce(ISSN:1091-9392, IF=1.4, 正刊)
*Note: All submitted articles should report original, previously unpublished research results, experimental or theoretical. Articles submitted to the conference should meet these criteria and must not be under consideration for publication elsewhere. We firmly believe that ethical conduct is the most essential virtual of any academic. Hence any act of plagiarism is a totally unacceptable academic misconduct and cannot be tolerated.